WooHoo!!  Let's play with Branding
One of our first tasks will be to find images and fonts to create the "header" look for the site.  You'll see my own site does that with the image above.  My site name is "Websites by Maryna" and my tagline is "aligning online presence with soul & business purpose" and I've used different fonts and colors to create my look. I've also set up my logo image within the header area.
The more modern approach is to use full width images that we can add words to or not. Another popular modern trend is to use a small logo along with your site name branded in specific fonts and colors and then to have the menu navigation links to the right of that or below that.
So, you get to find a few images you like and then pick a few fonts that appeal to you and we'll start playing with them.
Also feel free to send me links to sites you like and let me know which feature, colors, etc. you like and might want to try.  These will be sites that appeal to you because of the look or branding they've created.
We get to design the exact look that you want and we can do that by mixing and matching design ideas from various websites that appeal to you.
Sites where you can find graphic images
http://www.istockphoto.com/
http://www.bigstockphoto.com
http://www.shutterstock.com/
If we're planning for a full width image across the top of your home page, you'll want to look for images that are very wide, but not so "high". That way we create something that's pleasing to the eye without having to scroll down the page to see the full image.
Save the images you like, but don't worry about paying for them.  Once we've finalized the design and picked the image we want, we can think about paying for a licensed copy.
Finding Free Fonts that you like
Fonts can be very expensive, but fortunately, there are lots of free fonts out there. Here are a few resources I use:
There are many different ways to search, but one of my favorites, is to select the category, Script / Handwritten as illustrated below, and then type in the text in the Preview box and click the submit button to the right.  I then get to see hundreds of different fonts displaying the text that will go in the header image.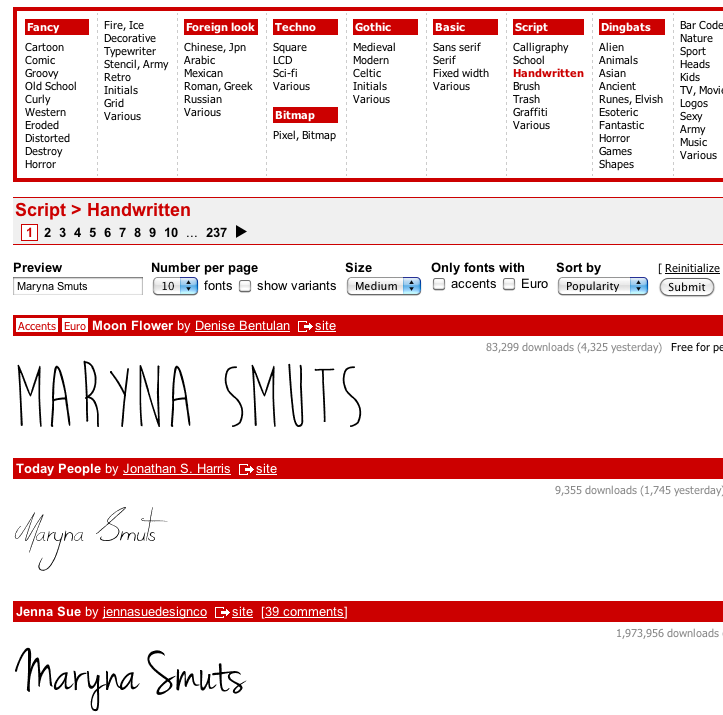 Another resource for free fonts is Fontsquirrel. When you see one you like, click on the name or View and the detail screen will open.
Then look for the Test Drive tab, where you can enter your name, for example, and see what it will look like in the font.
Once you find fonts you like, you can let me know where you found them and what the exact name of the font is. I can then download those fonts and we can try them in your design.